Reading Time:
3
minutes
Provide your guests and employees with the tools they need to succeed, starting with well-designed bank teller desks. Adapting your branch to account for technological advancements and emerging trends will show stakeholders that you care about making their experience comfortable. Keep reading for more information about getting started.
teller station design with the customer or member in mind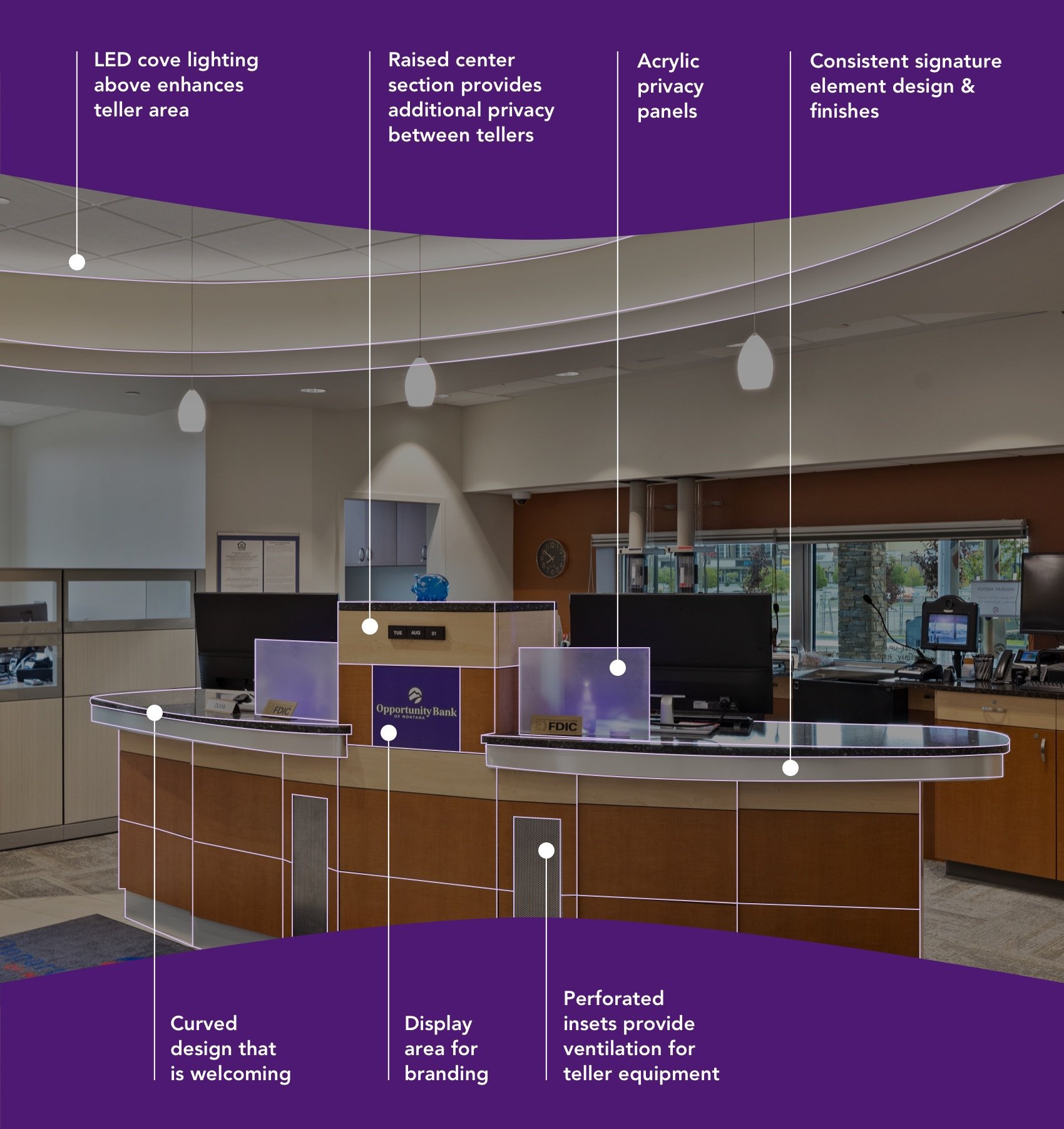 There are key elements that make a teller station user-friendly and welcoming for everyone who walks into your financial institution. Entry, effective signage, and technology integration can all be used for a pleasant experience. Keep in mind:
Easy access and navigation, meaning clear pathways and a logical flow of foot traffic, in addition to unimpeded sightlines
Effective signage with appropriately-sized, readable fonts
Comfort as a priority, with seating options, adequate space for transactions and doing away with teller lines
Technology integration to provide consumers with easier, faster, and more efficient access to their finances
teller station design with the teller in mind
Your employees deserve as much consideration as the members they serve. Be thoughtful about the layout of their workspace, materials they need to perform the duties of the job, and up-to-date technology. Start with:
An ergonomic design that minimizes strain and discomfort. For example, by adjusting teller height stations appropriately, you will ensure that the worker can comfortably reach necessary tools, equipment, and documents without adopting awkward postures.
Ample space for materials with efficient storage solutions and clutter-free workspaces.
The latest technology, including omnichannel banking or touchpoint integration to prevent bank customers and credit union members — as well as staff — from having to go digging for their information.
teller station placement within the branch
When strategizing the position of teller stations within a branch, accessibility and security should be top priorities. Traditional bank layouts, where guests are ushered through stanchions, are a thing of the past. Instead, modern designs provide open communication and easy, transparent access to products and services.
We've seen that successful branches divide their physical spaces into distinct zones based on what the member or banker is looking for: self-service, advice, or transactions with a teller. Consider keeping tellers and advisors close to each other, as their complementary services could seamlessly blend.
Ensure optimal visibility and robust security measures in those areas, allowing both employees and guests to maintain unobstructed lines of sight.
essential teller station technology and features
Take advantage of technological features and tools to streamline transactions, enhance security, and promote inclusivity in your financial institution. Here are details about a few:
Biometric authentication is a modern form of security that is replacing traditional passwords and two-factor authentication. This technology analyzes and measures unique identifiers such as fingerprints, voice patterns, facial features, or even keystroke patterns. Banks are increasingly relying on biometrics for fast, secure access to open accounts, and perform transactions.
Mobile device integration allows customers to connect their electronic devices to a teller station for easy — and familiar — access to account information.
Artificial intelligence and chatbot integration are able to answer customer inquiries and provide personalized recommendations with custom-built virtual agents, freeing up employees for tasks that require human interaction.
Digital document signing reduces the need for physical paperwork.
Contactless transactions, including near field communication (NFC) and mobile wallets, reduce cyber threats while serving the customer in an intuitive way.
Automatic Teller Machine (ATM) and Interactive Teller Machine (ITM), the latter of which includes all the standard functions of the well-known ATM — PIN pad, card reader, and receipt printer — plus a two-way video conferencing system that connects the user with a remote teller.
Touchscreen technology helps give the guest autonomy over their finances, allowing for customer involvement in functions like logging in and updating information quickly and accurately.
Accessibility features that are inclusive for all customers and comply with regulations, including the Americans with Disabilities Act.
Advanced queue management system that allows customers to sign in upon arrival and have a clear sense of how long they will be waiting. You can also use digital signage to display informational images and videos or media as entertainment to keep guests occupied.
top teller station design flaws to avoid
Avoid these common design mistakes made in many financial institutions:
Overcrowded or cramped stations
Inefficient use of space
Unwelcoming or intimidating designs and lighting
Visible equipment, data cables and plugs
Inaccessible layouts for diverse needs
Confusing or poorly planned traffic flow
Obstructed staff visibility and security
The importance of considering the needs of your customers/members and employees, and embracing innovation, cannot be overstated. At The Element Group, we're happy to discuss teller station design requirements and specific needs at your financial institution. Reach out to set up a convenient time to learn more.